Welcome 2016! I post this video on YouTube in honor of our ancestors and the memories they give us. My grandfather died a year before I was born and I am his namesake. He is the most important person in my life. I inherited a creative impulse from him that continues to thrive and for that I am most grateful and, frankly, astonished. I wrote Father Said: in a short two-week span after I received the manuscript of his poems on the Christmas shortly after my 50th birthday. I had known for years that he wrote poetry, but had no idea of the extent of it nor the deep commitment to his craft. I was inspired.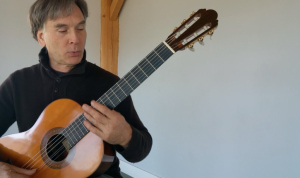 A poetic reminiscence by my grandfather on his father and childhood on the wild plains of Texas in the 1890's, Father Said: is an important contribution both to American folk history and to the literature for voice and classical guitar. It is a collaboration spanning three centuries: a powerful combination of the wisdom and wit of my great-grandfather, pioneer Joel Sylvanus Wallace (b. c.1845), as remembered in the elegant poetry of his son, my grandfather Frank C. Wallace (b. Chico, Texas, 1887), and the compositions of his grandson, me, Frank A. Wallace (b. Houston, 1952).
A cage,
A bowl, a jar that chokes the yellow vine,
A tethered cub depress me more than
Death 
Itself.
~
This side
The river is much like the other side
And yet the farther banks call out to me
To come.
The score is available at http://gyremusic.com/products/father-said/, Download the poetry here Father Said:
Video by Emily Taub, Amber Martin and Frank Wallace with assistance from Nancy Knowles. Frank Wallace editions are published by Gyre Music at www.gyremusic.com.